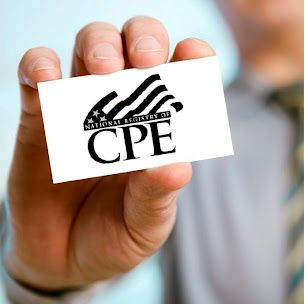 Continuing professional education (CPE) credits are an essential aspect of maintaining and advancing your career in IT and other fields. These credits are based on hours of study and play a crucial role in certification programs that help professionals keep their skills current and competitive. In this blog, we'll take a closer look at what CPE credits are, why they are important, and how you can earn them.

What are CPE Credits?
CPE credits, also known as continuing education units (CEU) or continuing education credits (CEC), are points earned by professionals who participate in specialized training programs. These programs are designed to ensure that professionals continue to learn and remain up-to-date with developments in their industries.

Why are CPE Credits Important?
The purpose of CPE credits is to help professionals and their companies stay competitive by adding to the skillsets they can offer. They also ensure that professionals remain current in their fields and continue to develop their careers. CPE credits are a crucial step in obtaining certifications, which are essential for career advancement and higher salaries in the IT industry.

Who Needs CPE Credits?
CPE credits are important for IT and other professionals at all skill levels, from entry-level to senior positions, and in established as well as emerging technologies such as artificial intelligence (AI) and data science. Certifications that can help individuals start an IT career include CompTIA A+ Technician, Cisco Certified Network Associate (CCNA), CompTIA Network+, Certified Information Systems Security Professional (CISSP), Microsoft Certified Systems Engineer (MCSE), and Microsoft 365 Certified: Modern Desktop Administrator Associate.

How to Earn CPE Credits
Training programs for CPE credits are offered by industry associations, colleges, vocational schools, and private companies. Before starting training, it's important to research the organization that will be providing the credits to make sure they can count towards your required professional education. Some of the organizations involved in continuing education programs for IT-related jobs include CompTIA, the Project Management Institute, (ISC)2 (International Information Systems Security Certification Consortium), and ISACA (Information Systems Audit and Control Association).

What Qualifies as CPE?
The type of continuing education provided and how it's conducted usually determines the number of CPE credits awarded. CPE programs can include training workshops, conferences, in-person and online classes, webinars, serving on industry boards, self-study, submitting articles in your field, and volunteer work such as mentoring a student. In some IT fields, professionals can accumulate CPE credits by taking online quizzes.

CPE Requirements
CPE credit requirements vary by certification. For example, IT professionals with ISACA certifications such as CISA, CISM, CGEIT or CRISC, are required to obtain 120 CPE credits every three years, with a minimum of 20 per year. As an IT governance association, ISACA organizes conferences, seminars, workshops, chapter programs or meetings for professionals to earn CPE units. ISACA also accepts CPE courses or activities conducted by other organizations such as the GRCCPEacademy.org.

The (ISC)2 certification requires that professionals renew it every three years so that cybersecurity or IT security professionals can keep themselves up to date. To do this, individuals must continue their professional education.

Certification can be expensive, although the cost varies. Some employers pay for CPE credits. Additionally, organizations may also provide some coverage for the cost of classes, and the GRCCPEacademy.org will be releasing details of our scholarship program soon.

In conclusion, CPE credits are an important aspect of career advancement and staying competitive in the IT industry. By participating in specialized training programs and earning CPE credits, professionals can keep their skills current, improve their job performance, and earn higher salaries. Start exploring the options available to you today and take the first step towards maximizing your professional potential.